a graphic from the latest book
strictly copyright Aime Sacrez 2004
WOW - SHE'S BACK!
Sue, now known as Susan Macauley has self published her long awaited second book and it is a MUST HAVE! You won't believe the artwork and any true green frog lover in this world, MUST grab a copy of this book while they can. The new book is called
THE GREEN FROG REGATTA
This poem was always one of Susan's most requested and she has re-written it especially for the young and the young at heart. The Green Frog Poetry Club may be closed (and Susan misses her previous 700 members), but don't be blue - BE GREEN and click here to see her latest amazing book, illustrated by her amazing artist - Aime Sacrez
You won't believe how great it is. Click now!
The new book is out - click the new link above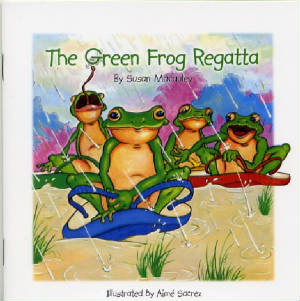 this picture is strictly covered by copyright - by Aime Sacrez 2004